As Thanksgiving approaches, it's time to get serious about your table decor. If you're anything like us, time seems to fly by between Halloween and Christmas and we don't want to overlook Thanksgiving. This year, make your life easier by creating a stunning tablescape with a quick, easy, and effortless garland. Your guests will be impressed and you'll have less stress. 
One of our favorite ways to dress a table is with a festive garland. It really doesn't get easier than an all-in-one item that fills the space, looks gorgeous, and works on its own or with other pieces you already own. Plus faux garlands can be used year after year saving you time and money. 
In an effort to further minimize your stress and save you time this year, we scoured the internet for the best-of-the-best faux garlands for your Thanksgiving table. These hand-selected favorites feature several styles, widths, and finishes. This list has something for everyone. 
Before You Get Started
Before you get started, consider the size of your table. This will determine how much garland you need. Next, take into consideration other decor items you already own that you may want to pair with your garland. Finally, think about what style of decor you have or what type of Thanksgiving dinner you will be hosting. Will the event be casual or elegant? Is your current decor modern, farmhouse, traditional, etc? Answering all of these questions will certainly help as you look over this list. 
If you still have questions about Thanksgiving table decor check out or FAQs at the end of this article. We also offer more inspiration and information in our How to Decorate Your Thanksgiving Table article. It has great tips and tricks as well as inspiration for several different color schemes. 
Now let's take a look at these gorgeous garland options. 
Top Garlands to Use as Your Centerpiece this Thanksgiving
Gilded Brass Disc Garland
How gorgeous is this garland from CB2?! Use it on its own or layer it with a simple green garland of your choice. This piece will certainly elevate any Thanksgiving Day table. Bonus- you can use this piece for multiple holidays or for a little everyday chic. We love a hard-working piece like this.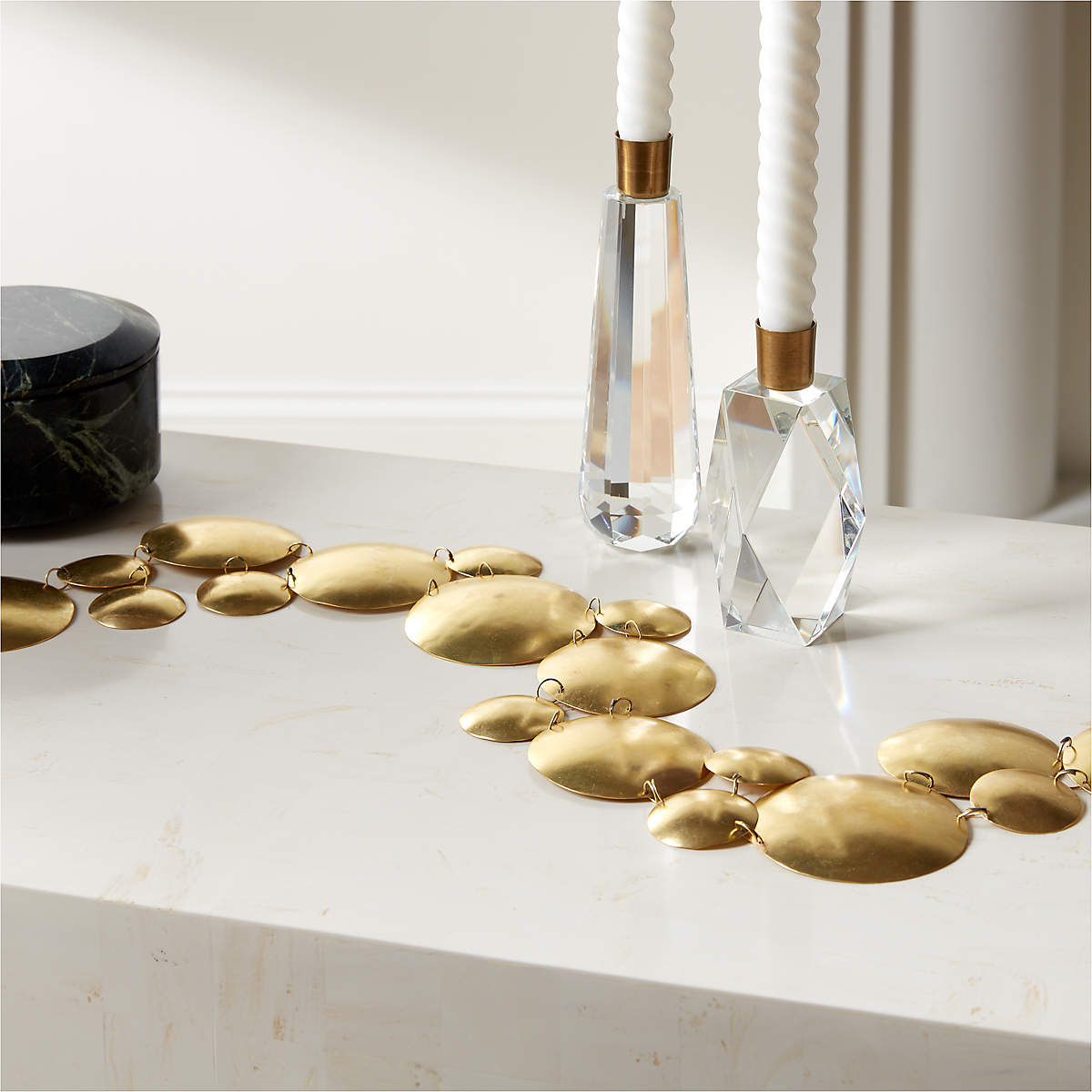 Sunflowers = smiles, it's science. This gorgeous garland comes in a two-pack allowing you to change your look from minimal to all-out lush in a matter of moments. Plus this is more bang for your buck! If you're looking for something understated use one on your table, and if you want the wow factor using two.  Each piece is 5.9 feet long. Pair this with matte black candlesticks or rustic lanterns for a warm inviting Thanksgiving feel. 
If you're looking for an understated and minimal look, this is the garland for you. The piece is dainty while still packing a punch with lots of tiny pumpkins, pinecones, leaves, and twigs. This garland will take a backseat and let other centerpiece items be the star of the show. Consider candles, candlesticks, faux or real pumpkins, or modern lanterns. The garland is approximately 5 feet long and features a wire core for easy manipulation. 
Fans of traditional Thanksgiving decor will love this garland. It features gorgeously realistic magnolia leaves. It has enough depth to stand on its own or combine with other items like candles, minimal sprigs, or even a small berry garland. You get one 6-foot piece of garland with two-tone leaves and flexible wiring for easy positioning on the table. 
If you want something full and lush without pumpkins this is a great option. The 6.5-foot piece features a great autumnal mix of various leaves and greenery in a full format. We love the drapey look and feel. This will pair well with some candlesticks for an elevated casual look or with a fancy table runner on an elegant table. Change up your look from year to year using the same garland. It doesn't get any easier than that! 
This minimal garland, in traditional colors, is approximately 6 feet long making it ideal for many tables. The minimal composition makes the entire piece feel very modern and chic. It will work on its own or be combined with a few other pieces as a quick and easy centerpiece. Prepare to wow your guests with this one. 
This feels traditional and farmhouse chic at the same time. The piece measures 6 feet and does not need anything else to stand out. We love the mix of matte-finish pumpkins with shiny white berries. It is very full and will go well with a green and white theme. 
Keeping it simple this year? Each of the 6.5-foot pieces included in the set is just what you need. Use one for a truly minimal look or use two for an elevated minimal. Keep the look simple by adding plain candles or simple candlesticks. These can go with many types of decor depending on how you pair them with your items from modern, to farmhouse, to rustic, to traditional. This set does it all. 
Go glam this year and add a metallic mini-leaf garland to your table. This piece is thin so it pairs well when wrapped in with other garlands for a hint of shine. If you prefer more shine, combine all three strands that come with the set into one piece. This look will combine best with interwoven fairy twinkle lights or candles to enhance and reflect off the metallic finish. 
Make a major Thanksgiving statement with this high shine and very full metallic maple garland. This piece is 6 feet long and covered in copper and gold maple leaves. There's also a more muted color option if you want to go glam, but understated too! Gotta love options. 
Love minimal, but still want that traditional fall feeling? Look no further. This garland is the perfect combination of matte finish eucalyptus leaves paired with pinecones, white pumpkins, and white berries. The berries, pumpkins, and pinecones are evenly spaced out for a minimal look. You'll really wow your guests with this piece that looks more expensive than it really is. Don't worry, we won't tell. 
Add a touch of florals to your Thanksgiving table this year with this gorgeous garland. It's jam-packed full of hydrangeas, sunflowers, pumpkins, berries, and gourds all surrounded by fall leaves. This piece needs no accompaniment. It looks great all on its own and will make decorating your table a cinch.   
This garland is very unique. We love the addition of the burlap added to the branches to give the piece some additional interest and width. Each piece measures 50 inches in length. It is a thin garland compared to some of the others featured here, so it's best to pair it with additional decor items or for those looking for a minimal feel. 
Holiday Garland FAQs
Do I need a garland with a wire core for a centerpiece?
Purchasing a garland with a wire core is your best option. A wire core will make the garland flexible and you can manipulate it around other items on the table or position it as you desire. Most garland on the market has a wire core. Without the wire, the garland will generally lay straight only, which makes it much harder to use. 
How much garland do I need for a table centerpiece?
This will depend on two things. First, the size of your table. You can have the garland centered or draped over the edges of the table. Measure your table and purchase accordingly. Second, the style you want to achieve. Some garland is more sparse so you may want to interweave two strands. Others will work fine on their own. Finally, it depends on what look you want to achieve. 
What pairs well with garland as a centerpiece?
Almost anything you already have will pair nicely. It depends on the style and overall look you are trying to achieve. We recommend the following as a good place to start.
Candlesticks

Candles in jars

Faux or real pumpkins and gourds

Metal or wood lanterns

Fairy lights weaved in for a little sparkle

Fall floral arrangements 
How do I clean faux garland?
Cleaning faux garland is a cinch. We recommend cleaning with a damp cloth. Be careful using too much water on fabric leaves or they may lose their shape. Consult the manufacturer's guidelines on any inserts that come with your garland as well. 
How do you keep your faux garland in good shape to reuse?
Storage, storage, storage! Carefully compress the garland into a smaller size. Be cautious to keep branches and leaves facing the same direction as they are now. Don't fold them back, twist, etc. or they may get stuck and hard to reposition next year. Keep that garland in a container sealed from the elements. Consider plastic containers, boxes, or trash bags. Water, heat, and humidity are the main enemies of faux greenery and florals. Store the container in a cool and dark location. Taking these extra precautions at the end of the season will ensure your piece is looking tip-top when you want to use it again next year.