Stressed out trying to find a new tree topper this year? Stuck in a decorating rut and looking to mix things up? Looking for the perfect fit for a new tree or a tree in a new space? Never fear, we can help. 
As Christmas aficionados, we gathered our most popular tree topper options for you right here. Get those creative juices flowing with fun new inspiring ideas in our Decorators Guide. 
After you check out our Decorator's Guide be sure to pick up some extra tips in our Buyer's Guide and Frequently Asked Questions at the bottom. If you do, you'll be ready to top that tree in no time! 
Let's get right to those new ideas! 
Decorator's Guide
When searching for the perfect Christmas tree topper, you have many options. Here we've broken down toppers into the most popular categories to make your decision easier. Take a look and find something unexpected this year!
Crown
Consider an unexpected choice this year. Top your tree with a festive crown. Keep the feel simple or rustic with a woven yarn option. Make it GLAM with a crown covered in rhinestones and glitter. If you want to add extra light, there are some beautiful crowns with built-in LED lights. Precious metals are another way to go- think gold, silver, brass, or rose gold. There are some royally good choices to make your tree fit for a king/queen this year.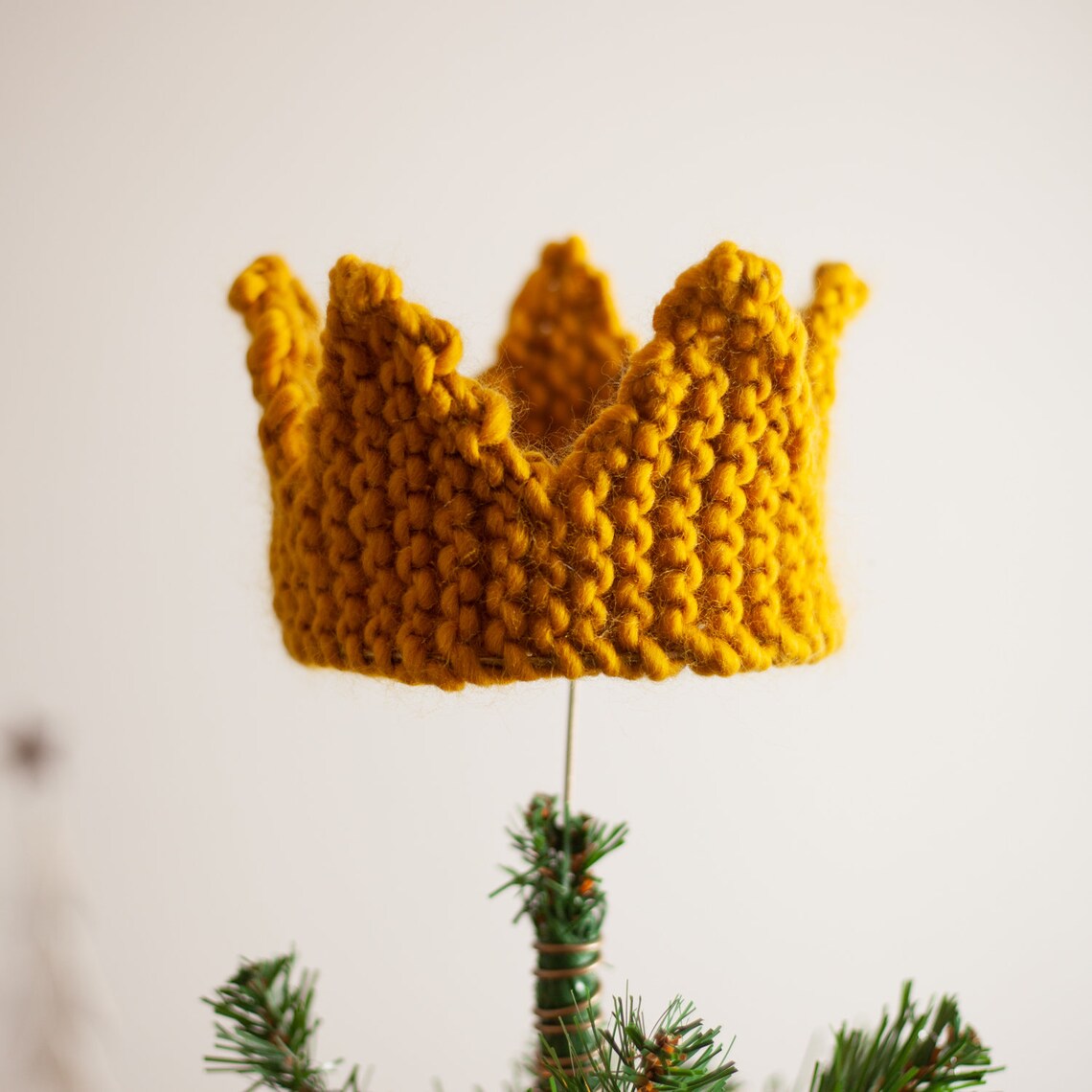 Novelty Topper
Imagine topping your tree with a topper that looks like BigFoot, King Kong, the Death Star from Star Wars, or a pinata. There is no shortage of silly and chuckle-inducing tree toppers this year. (Don't we all need a laugh this time of year?!) 
Look for one that reminds you of a memorable experience with family or friends. Consider something that makes you smile from a favorite movie or character. Choosing a silly topper can also lead to an entirely new and hilarious tree decor theme for the year. Break out of the red and green mold, and try something unique and silly this year. 
For more smile-worthy novelty toppers check out our post here.  
Rotating Toppers
If you're looking to break out of your typical decoration pattern, but still want something Christmasy and traditional, try a rotating topper. There are some beautiful snowflakes and stars on the market. Each one gently spins and brings added interest to the top of your tree. 
Some of our favorites are Santas in sleighs or airplanes zooming around the top of the tree. Who doesn't love seeing Santa take flight? Your new rotating topper is guaranteed to delight children from 1-92. 
Light Projection Topper 
Mix things up with a LED-powered light projection topper this year. These toppers give your tree a completely new look and feel. Each model is a bit different, but most project shapes directly up and above your tree. 
Some of our favorites are those with fun light shapes such as snowflakes and stars. We also love the models that provide light color options. Some offer warm or bright white lights and multi-colored lights that auto-rotate. What's not to love? 
Bouquet of Poinsettias
Talk about wow! There are some gorgeous faux poinsettias in various colors available during the Christmas season. Imagine how gorgeous a soft bouquet of white, pink, red, or green poinsettia flowers would look at the top of the tree. You could even incorporate smaller versions throughout the main part of the tree. We recommend using faux poinsettias if possible because real ones are very delicate and may not last long on the tree. What a one of a kind, traditional, and natural look all in one! If you want something already assembled, consider the option shown below from Target.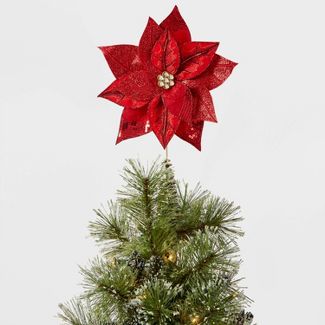 Large Bow
Some may argue that a bow can look a bit outdated. However, there are ways to make it modern and give bows a chance to shine atop the tree. 
Look for something that resembles more of a bow tie shape for a modern look and less of a traditional cauliflower shape. Search for handmade items by local artists or online at handmade retailers such as Etsy.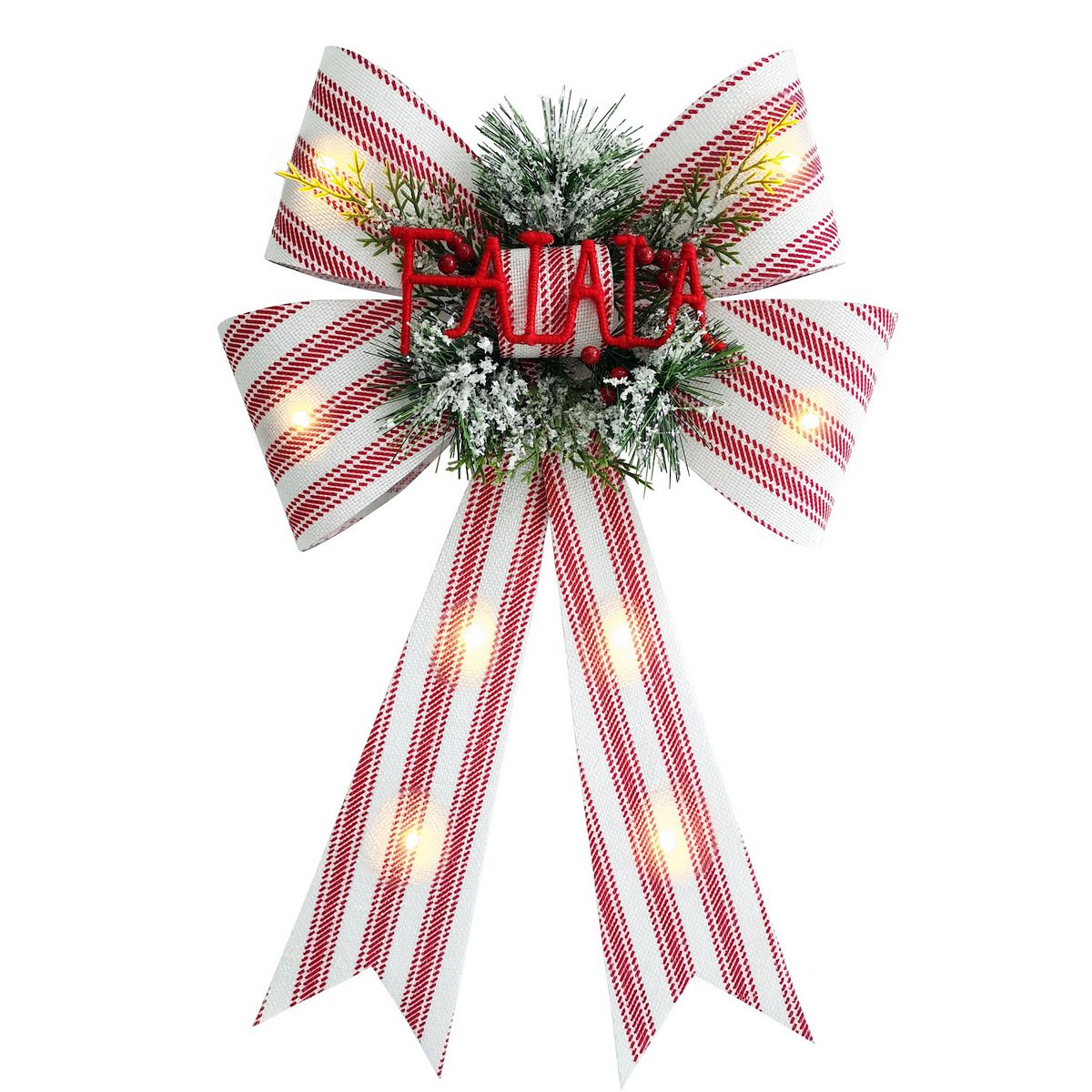 Finial Topper
Bring a retro vibe to your space by using a traditional finial topper. Finials are often made of glass or metal and come in lots of colors and styles. Retro versions in traditional and bright colors have been emerging on the market over the last few years. These tall toppers fit the bill for those who want to add extra height and style to their tree this year.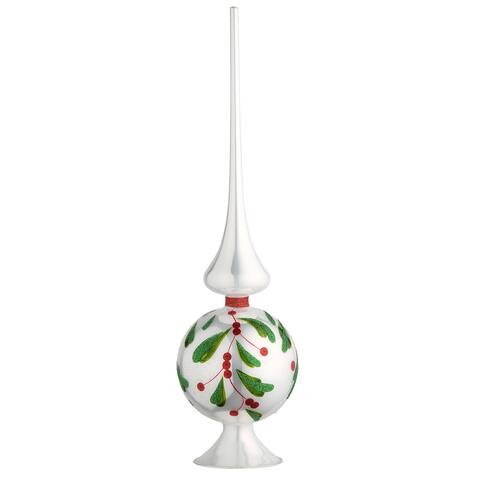 Traditional Angel Topper
Angel tree toppers will never go out of style. Search your attic for a family heirloom or speak with family members to see who may have one to loan this year. If you're looking to buy an angel, they can be found at many major retailers. You can find designs from minimalist to ornate and in almost every color of the rainbow. 
Traditional Star Topper
Similar to angels, stars are also classic and timeless. Be sure to check with relatives as there could be an unused family heirloom just lying about. An heirloom can add lots of nostalgia and gives new life to a once-loved topper. 
If you're looking for a new star topper, there are thousands to choose from across all price points. You'll see rotating stars, stars with LED lights, glass stars, felt stars, GLAM stars, stars made of metal, and many more. There is something for everyone when it comes to star toppers. 
Sprays and Sprigs
Keep the top interesting with faux sprays and sprigs that match your tree decor. Think feathers, florals, branches, bells, and berries. Sprays and sprigs work well because they are generally lightweight and can be easily stuck right into the top of the tree. The tree can hold them securely between its branches without any extra attachments. Easy and efficient a real win-win! 
If you go this route, make sure to choose 2-3 different colors and textures of sprays and sprigs to make the look more layered and interesting to the eye.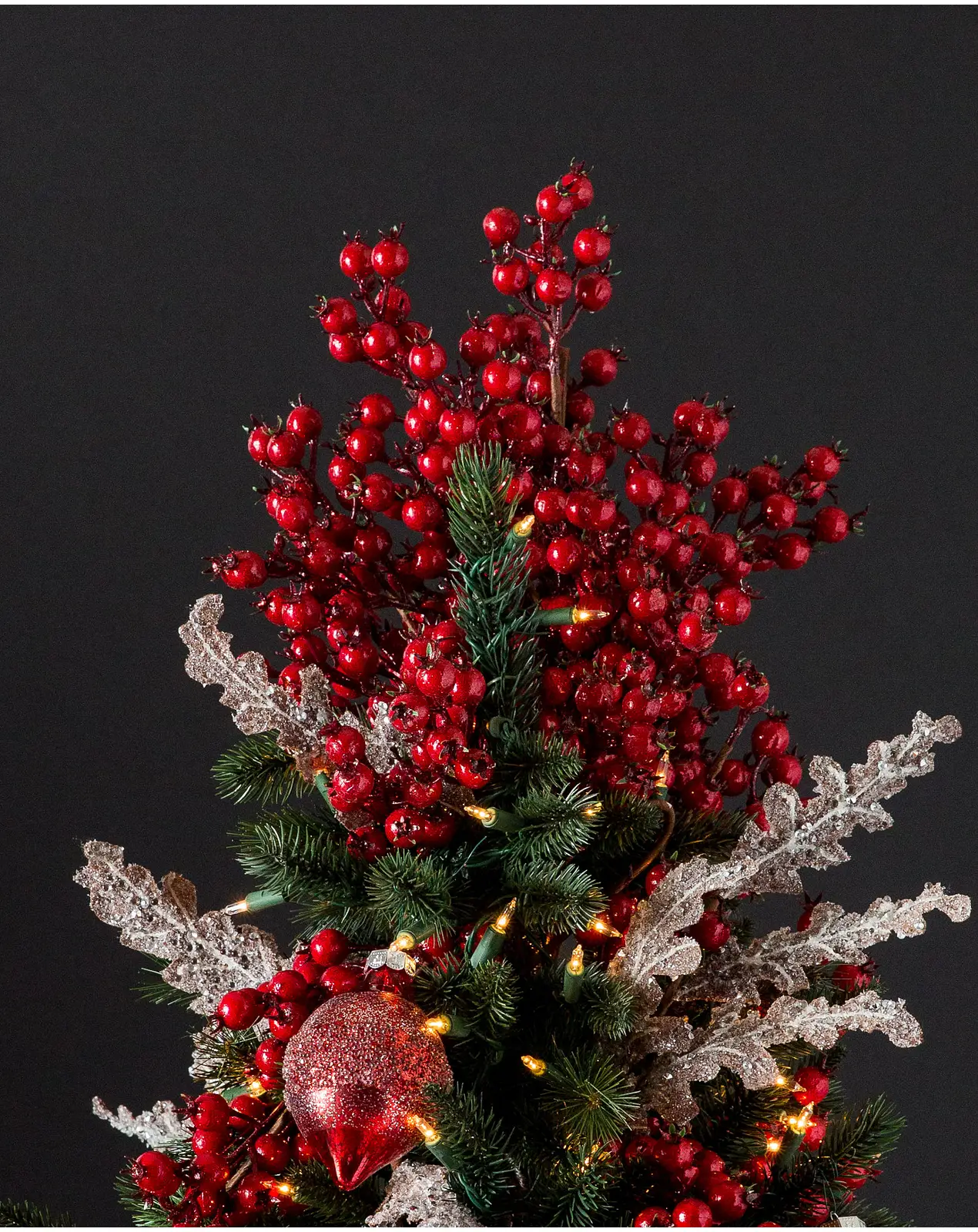 Buyer's Guide
Tree Style
The first thing to consider when searching for a topper is your tree style. What type of topper will look best? Is your tree traditional, rustic, contemporary, whimsical, etc.? No matter the style, there is a tree topper to match! 
Consider the entire look and feel of the tree. If your tree is traditional, you can consider a traditional angel, star, or finial. If you're going for a whimsical look, consider sprigs and sprays, a large ribbon, or a light projection topper. Novelty and rotating toppers are great for trees with family heirloom ornaments or homes with children. There are no rules, so do what works best for you and your family. You'll know what feels right. 
Tree Size
Consider tree size when searching for your perfect Christmas tree topper. Consider both the width and height of your tree. Larger and heavier toppers work best on larger wider trees. Smaller trees work best with smaller and lighter toppers. 
Of course, these are only general guidelines You can combine any size tree with any size topper. It all depends on the overall look and feel you are trying to create. The one thing to remember no matter the tree size is to secure the topper to the tree with pipe cleaners, zip ties, or floral wire. This will prevent the topper from falling off. Therefore, preventing damage to your topper, your tree, and your home. 
Budget
Before you start your search, decide on a budget for your topper. There are toppers available across every price point. You should have a lot of choices no matter how much you want to spend. 
Keep in mind that you can generally find deals on toppers on Black Friday, Cyber Monday, and the week after Christmas. Sometimes you can find deals online in the summer as well-think Amazon Prime Day or Christmas in July sales. 
FAQs
What size tree topper do I need for my tree?
This will depend on the style and size of your tree. If you're going for a traditional look, you want a topper larger than any of your regular ornaments. You're looking for something about 3-5x larger than your biggest ornament. You can also use a large topper on a small tree for a whimsical look. Read the manufacturer's or vendor's description online or on the physical packaging. These locations generally indicate the tree size that works best for the topper. However, rules were made to be broken. If you see something that you love-go for it! 
Where can I buy a premade bow topper?
You can find premade bows in classic Christmas colors at many large retailers and craft stores wherever artificial Christmas trees are sold. You can also find them online through large retailers or individual vendors on Etsy. Some smaller vendors offer custom colors and ribbon choices too. 
Do I need to use a Christmas tree topper?
Absolutely not! We have seen some gorgeous trees with no topper at all. This all comes down to your personal preference and the style of your tree. If you don't use a topper for an artificial tree, be sure to fluff the top of the tree, so the branches all look as natural as possible. 
How much space do I need for my tree topper?
This all depends on the size of your Christmas tree topper. Small toppers can be placed on the very top branch or tree point. Larger and heavier toppers should be anchored to the center support of the tree with a zip tie or floral wire. Make sure a heavy or large topper starts about 6 inches from the top if it can still extend past the top point of the tree. This way the piece is still at the top but has support. This is also a great method to use your topper away from the ceiling if it is too close. 
Should my tree topper touch the ceiling?
No. Ideally, you want at least 6 inches between the top of your tree and the ceiling. A good rule of thumb is 12 inches. This will prevent damage to your ceiling and your tree topper. 
How do I attach my Christmas tree topper to keep it from falling off?
To prevent leaning and falling off, you will want to attach your topper securely to your tree. You can do this with floral wire, pipe cleaners, or zip ties. Use zip ties for large heavy toppers. Attach the wire, and pipe cleaner, or tie them to the center of the top of the tree. Next, attach the ends to your topper. Make sure it feels tight and secure. 
If you're looking for more Christmas tree topper inspiration, don't miss this post.  Happy decorating!