Hocus Pocus 2! It is happening! Breath friends, just breath. Can you believe it? A sequel 29 years in the making is here and we can't wait to return to Salem. How about you? 
With the anticipation of the film's release comes a whole host of questions. Will original cast members return? When will the film be released? How can I watch?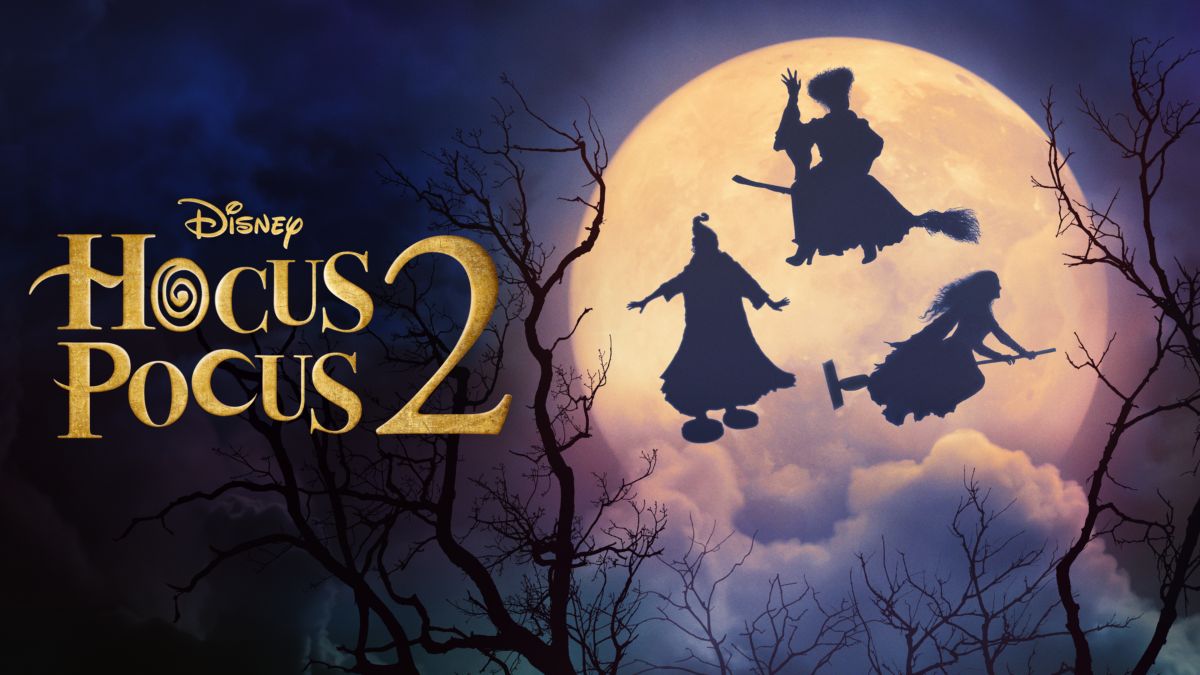 On top of that is all of the planning to prepare for the ultimate watch party. Don't worry we've got you covered for both. We did some digging to answer your most asked Hocus Pocus 2 questions and also put together the ultimate planning guide for your watch party. 
If that wasn't enough we also compiled a fun list of Hocus Pocus 2 souvenirs that's sure to put a smile on your face. What can we say-we're super fans too!  
Check out all of the good stuff below and enjoy the film! 
What we know about Hocus Pocus 2
The Plot
Not much has been released about the plot. The longline reads, "Three young women accidentally bring the Sanderson sisters back to modern-day Salem and must figure out how to stop the child-hungry witches from wreaking a new kind of havoc on the world." 
This sounds eerily similar to the first film, but we're certain this will be a whole new spin on the Sanderson Sisters in the 2020s. Here's hoping there are a few cameos of original cast members and at least one musical number featuring the iconic sisters. 
The Cast
Will any of our original favorites be featured or make cameos in the sequel? Until the film has been released it's tough to tell. Disney always has a few surprises in store. 
What we do know is the original actors for each of the Sanderson Sisters are returning including Sarah Jessica Parker, Bette Middler and Kathy Najimy. Doug Jones who played Billy Butcherson, Bette Midler's zombie ex, in the original film will also be making a return. 
EW officially broke the news in August 2023 that Max played by Omri Katz and Allison played by Vinessa Shaw will not be returning to Salem. This has left fans of the cult classic crushed yet again. This comes after earlier news exclusively from EW that Thora Butcher who played Dani will also not be returning. 
Cast members with new roles for the sequel include Whitney Peak, Lilia Buckingham, Belissa Escobedo, Hannah Waddingham, Tony Hale, Froy Gutierrez, Ginger Minj and Sam Richardson.
On the production side, original director, Adam Shankman, was unavailable due to scheduling conflicts. The sequel will be directed by Anne Fletcher. Fletcher served as director for 2009's The Proposal starring Ryan Reynolds and Sandra Bullock as well as 2006's Step Up which launched the career of Channing Tatum. Anne has numerous directing and choreography credits from both film and television.
Release Date
Hocus Pocus 2 will premiere on September 30, 2023. This is just in time for all of your October celebrations. Start planning your watch party now! 
How to watch
The film will be released exclusively for streaming on Disney+. No word on if the film will premiere in theaters at this time. 
Ultimate Hocus Pocus 2 Watch Party Guide 
Grab your pals and get ready to celebrate the release of the film with a festive watch party. But where do you start and what will you need? Don't fret, we've got you covered. You'll want to start with the basics-who, when, where and follow that up with food and decorations. 
Start by determining the number of guests you plan to invite. After that, choose a location for your watch party. Will you host a small group at home or a larger group gathered around an outdoor projector and screen? 
Once you have a location choose a date. We're partial to the release date, but anytime will do. Next, invite your friends and family who are fellow Hocus Pocus enthusiasts. 
After you have your date, time, location and guests sorted, start to consider your watch party details. We recommend starting with food. 
Food
Billy Butcherson's Sliders (make your favorite mini sandwiches or burgers)

Winifred's Wicked Jalapeno Popper Dip (substitute your favorite party dip and change the name as needed)

Sarah's Sangria or Non-Alcoholic Punch (make your favorite drink for a crowd)

Mary's Munchie Mix (use your favorite prepackaged or homemade snack mix like Chex Mix, Cheez-Its, specialty popcorn, or Gardettos)

Salem Baking Company (insert your favorite dessert like cupcakes, cookies, or mini cheesecakes)

Any other items to make your party complete such as a charcuterie spread, pizza, tacos, or your favorite Halloween candies
Decorations
Now that you have a solid plan for food it's time to move on to decorating your space. Do you plan to go all out, repurpose pieces you already own, buy something new, go DIY or a little bit of everything?  
If you're looking for new items to add to the watch party mix consider these fun options below. Bonus-many of these items are reusable so you could make this an annual event or keep the pieces for your regular Halloween celebrations. 
When decorating your space we recommend a few small touches to make your guest feel special. Start with festive or themed paper products or dinner wear. Add a cauldron or cauldron cups for whimsy and don't forget the balloons and banners. Whether you go all out and over the top or minimal, your guests will certainly feel special when they see all of the thoughtful planning you have added to the celebration.
Top Decorations for a Hocus Pocus 2 Watch Party
Who doesn't need this cauldron in their life. Are we right? This sturdy and well made piece will last you for several more years of festive watch parties and Halloween celebrations. Our favorite feature is that this piece is rated as food-safe. This means you can dish up your favorite treats hot or cold! The total width is almost 10 inches and it sits approximately 6 inches tall ! Bonus-the cauldron comes with the branch looking stoneware ladle perfect for that extra spooky touch. 
We think the Sanderson Sisters will approve of these delightfully festive cupcake toppers. Add them to your favorite dessert or appetizer tray and watch your guests squeal with delight. Each set includes 8 wood and paper toppers for each sister, making 24 toppers in total. 
Set the spooky mood for your watch party with these unique skeleton hand candles. Each set comes in a variety of colors and includes 8 LED candles. The candles are battery powered so no need to be near an outlet. You can use them anywhere. We recommend adding these to your food area, bar, or around the room for an eerie glow as you watch Hocus Pocus 2! 
No Hocus Pocus 2 watch party is complete without a black charcuterie board. It can be your version of a black flame candle. Tasty sweet treats and traditional charcuterie fare will look ultra festive on a black background. Get ready for loads of compliments on this piece. Bonus- this board comes in a variety of shapes and sizes to meet your needs. Each board is made from 100% mango wood. 
Add a little whimsy to the party and provide these fun and funky glasses for your guests. Who can resist the Hocus Pocus spirit when they have these glasses on?! Each set comes with 4 unique glasses designs made from sturdy card stock. Bonus-these glasses fit both kids and adults! 
Calling all cauldron lovers! You need this piece for your watch party- like today. We love this trio for holding candy, small treats, and snack mix for our watch party. It's elevated and adds a layer of height to your party spread. 
Go all out and add some balloons to your watch party location. Use them at your entrance or throughout for extra party spirit. We love that this set comes with solid color balloons in black, orange and purple as well as festive confetti balloons too. This is a large set so you could easily split these and save half for next year. We love a good chance to save some cash! 
How much fun will it be to sip a beverage from these fun cauldron mugs while watching the movie? A big bowl of popcorn and a festive mug? Yes please! Each set comes with 12 mugs. The mugs are not dishwasher safe so we also recommend avoiding hot liquids like teas or cocoas. It's best to use these for punch and other cold drinks. 
Another fun Sanderson Sister touch is this set of 30 matching paper straws. Add them to your bar and you have a functional item that also doubles as decor. A win-win in our book! 
Go all in Hocus Pocus 2 style with this garland set. We love this set because not only does it include a banner, but also some hanging swirl decorations. You can hang the garland across the mantle, across your entrance, or even along the doorway. The options for using these items are endless. The only drawback to this set is that it is made from paper. You'll have to be extra careful packing it away if you plan to use it again next year. 
Final Thoughts
We know you are excited as our team for the release of this highly anticipated sequel. With the information about the film and the watch party tips, we hope you're all set for a great viewing experience!  Hocus Pocus friends!